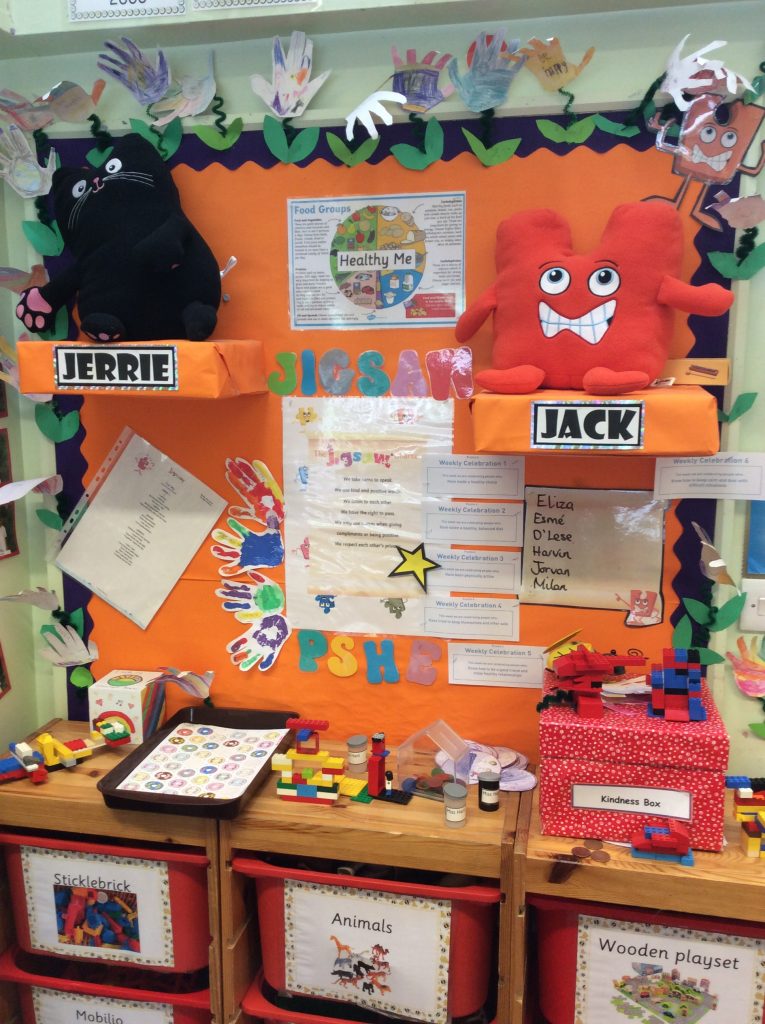 At Griffe Field Primary School, our pupil's personal, social, health and economic education is an important and part of their learning journey. We aim to put in the key building blocks of learning about healthy, respectful relationships, focusing on family and friendships, in all contexts, including online. This will sit alongside the essential understanding of how to be healthy and safe. We also believe that developing the children's awareness of safeguarding is vitally important in order to help develop our pupils to be emotionally literate, understand the rights of children, to look after their mental health and to recognise, respect and celebrate differences across our school. To read our Safeguarding Curriculum, please click here.
PSHE and Relationships Education at Griffe Field Primary school enables our children to become healthy, independent and responsible members of a society. It aims to help them understand how they are developing personally, socially and emotionally, and tackles many of the moral, social and cultural issues that are part of growing up in today's society. We provide our children with opportunities for them to learn about rights and responsibilities and appreciate what it means to be a member of a diverse society. Our children are encouraged to develop their sense of self-worth by playing a positive role in contributing to school life and the wider community. At Griffe Field Primary School we follow the Jigsaw PSHE scheme of work. This is a spiral approach to learning in which children are drip fed learning in an age appropriate way from FS1 to Year 6; with key themes being revisited and new learning introduced each year. This ensures that our children's learning is 'sticky' and that children have a deep understanding.
At Griffe Field Primary School we aim to provide the children with the knowledge, skills and understanding of mental health; what is means, how it can be recognised and tools to empower them with on how to cope with mental health and related issues. It is important each individual child has the confidence to recognise when mental health may affect their potential to succeed to the best of their ability; seeking help from school staff, including the two mental health first aiders we have at Griffe Field (Mrs Dean and Miss Sharp). Mental health includes our emotional, psychological, and social well-being. It affects how we think, feel, and act. It also helps determine how we handle stress, relate to others, and make choices. We want to ensure each pupil is aware that Mental Health is important at every stage of life; from childhood, adolescence to adulthood. We will equip pupils with skills and knowledge to take into the wider world and be able to be resilient and bounce back from the challenges of everyday life.
Having respect for others is a very important value we share at Griffe Field Primary School. Through modelled behaviour, the pupils are shown that respect for others and their own self-respect is a golden thread that runs through all aspects of their lives and all areas of the curriculum. We encourage children to have an opinion and to know that they can share this in a safe and respectful environment. We actively encourage children to talk about and share experiences of bullying behaviour and include any opportunities to discuss and learn about cyber bullying. We raise awareness of bullying and how to deal with bullying through our PSHE curriculum but also through our annual Anti-bullying week. We encourage older children in school to model friendly behaviour through our mini-leader schemes at lunchtime.
At Griffe Field Primary School we aim to help all pupils to stay safe in a range of contexts. We also support parents in keeping their children safe and well through our annual online safety parent meetings and Mental Health and wellbeing workshops.
At Griffe Field Primary School we promote the pupils' SMSC through :
developing their ability to reflect on their own lives.
having a knowledge of, and respect for, different people's values and feelings.
developing a sense of fascination in learning about themselves.
understanding the consequences of their behaviour and actions.
investigating views about ethical issues and appreciate the viewpoints of others.
be willing to cooperate with others and resolve conflicts.
demonstrating skills and attitudes which will help them to fully participate in their lives in modern Britain.
appreciating the wide range of cultural influences that shape their heritage.
recognising shared values across a range of communities.
understanding how democracy has shaped, and continues to impact on, Britain.
exploring and celebrate diversity (religious, ethnic and socio-economic) in the local, national and global communities.
Please click here to see in greater detail how SMSC is developed in our school and click here to read our policy on SMSC development.
Our Relationship and Health Education curriculum encompasses the aims of the National Curriculum.
When our children leave us, we are confident that they will have achieved and gained an understanding of all of the agreed national expectations. Key learning and objectives in Relationships Education are organised using the following headings:
Families and people who care for me.
Caring friendships.
Respectful relationships.
Online relationships.
Being safe.
Mrs Dean
PSHE Subject Leader


In Summer Term, as part of our Science and PSHE Curriculum, children are taught about how boys and girls are different, how our bodies change as we grow from babies to adults, puberty and how babies are born. We also teach the children about how to develop healthy relationships with others.
To see what objectives are taught for each year group with regards to this, please download and read this booklet.
To see further information about how PSHE and Relationships is taught at school, click here to view our school policy.
If you would like more information, please contact the school office and ask for Mrs Dean.