Our School Aims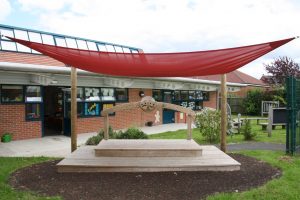 At Griffe Field Primary School we aim to develop successful, fulfilled young people, well skilled, with enquiring minds and positive, responsible attitudes.
We are committed to equality of opportunity and the provision of the highest standard of education for all pupils. Our curriculum is broad, balanced and relevant to a changing society. Our children are actively engaged in learning.
Griffe Field Primary School offers continuity of personal growth and learning from age 3-11 within a welcoming and secure environment. We work with our partner secondary schools to extend that continuity still further. We ensure that parents receive relevant and up-to-date information about their children and the school. We aim to work closely with families and the local community.
Alongside skills in English, Mathematics, Science and Information Communication Technology, our children learn about the changing world in which they live. Environmental and industrial awareness, the Arts, cultural and religious diversity will all contribute to developing intelligent, questioning young citizens. Good self-esteem, built upon academic and personal achievements, will foster their further success.
The School Site
The school is situated on the southern side of Derby serving the Heatherton/Hollybrook community. The school opened in September 1999 and provides an excellent, brand new environment for teaching and learning.
In September 2004 the school accommodation expanded and now includes a nursery and fourteen main school classrooms as well as a hall, practical and group rooms, a library and computer room. We have our own playing field and three attractive outdoor play areas, in addition to the nursery garden. In 2009, the addition of our Family Room enabled us to develop community links and provide extended school provision. The school has full wheelchair access and two disabled toilet facilities.
"Griffe Field" is named on the local Tithe Award map of 1848 and the school has been built upon it. The school badge was designed to incorporate two ancient meanings of the word "griffe" ie "a book" and "a deep valley" (in Norse dialect). In our badge the sun is rising upon the new learning day at Griffe Field.
Our Local Offer
To find out what we have to offer as a school, please click here to read our 'Local Offer' document.