At Griffe Field Primary School, we are as concerned with the children's welfare as their education. All members of our school community (including all staff, governors and volunteers) are responsible for ensuring that we promote the welfare of children and ensure that Safeguarding arrangements are all in place and followed.
We do this by providing safe environments, with secure access, where children can learn and develop, by acting in the best interests of children to protect them online and offline, including when they are receiving remote education and by identifying and taking action for those who may need help from other services.
Our schools graduated response to supporting children can be seen below (click the image for a link to the document). We have considered our whole school approach, including supporting those with SEND and SEMH needs, and what support we can offer. This aligns with the Derby and Derbyshire Safeguarding Children Partnership Thresholds Documents which outlines differing levels of support offered to families (click here to link to the DDSCP page).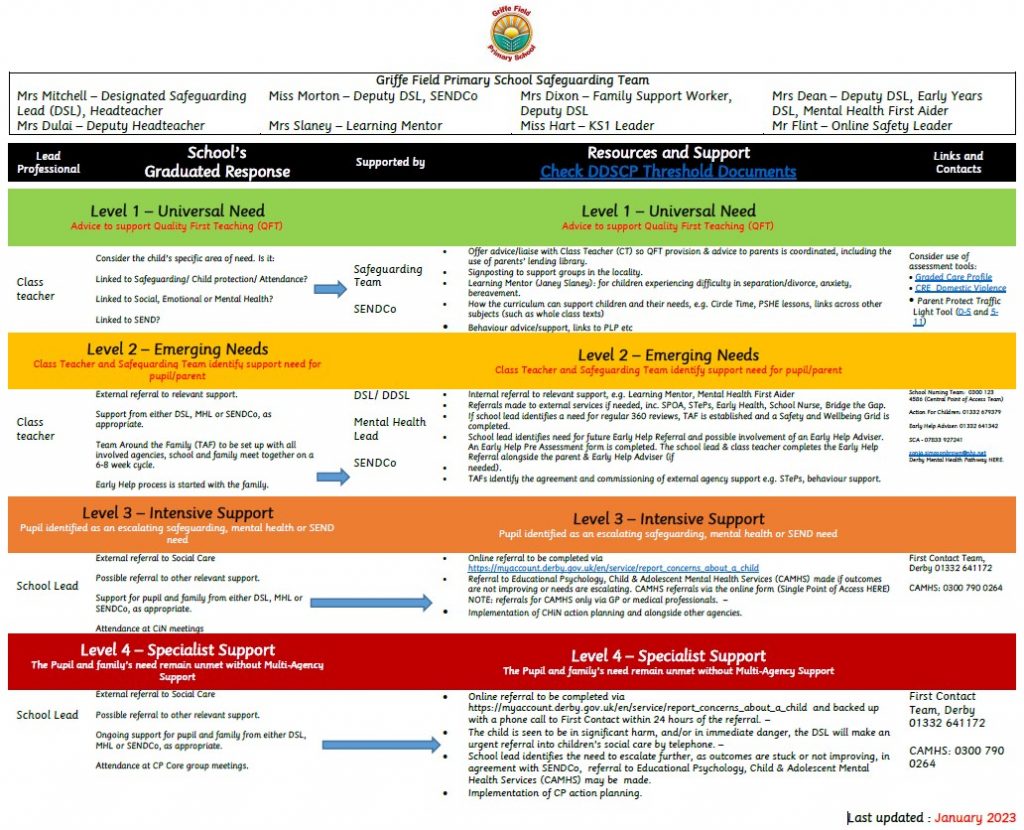 For more information on this, please click here to see our Safeguarding and Child Protection Policy.
To read more about our Early Help Offer, please click here.

If you have any immediate safeguarding concerns, please contact the school on 01332 515718 to speak to a member of the Safeguarding Team.
Derby First Contact Team can be called on 01332 641172.
During school holidays or any other 'out of hours' times, please contact us via the email address: safeguarding@griffefield.derby.sch.uk
For further contact details, please refer to pages 11 and 12 on the Safeguarding and Child Protection policy (linked above).
Children learn what they live
Children who live with criticism, learn to condemn
Children who live with hostility, learn to fight
Children who live with ridicule, learn to be shy
Children who live with shame, learn to feel guilt
Children who live with tolerance, learn to be patient
Children who live with encouragement, learn confidence
Children who live with praise, learn to appreciate
Children who live with fairness, learn justice
Children who live with security, learn to have faith
Children who live with approval, learn to like themselves
Children who live with acceptance and friendship, learn to find love in the world
From the full poem by Dorothy Law Nolt.