We expect the children to come to school looking smart, well prepared for work and proud of their school. School uniform reinforces our school identity.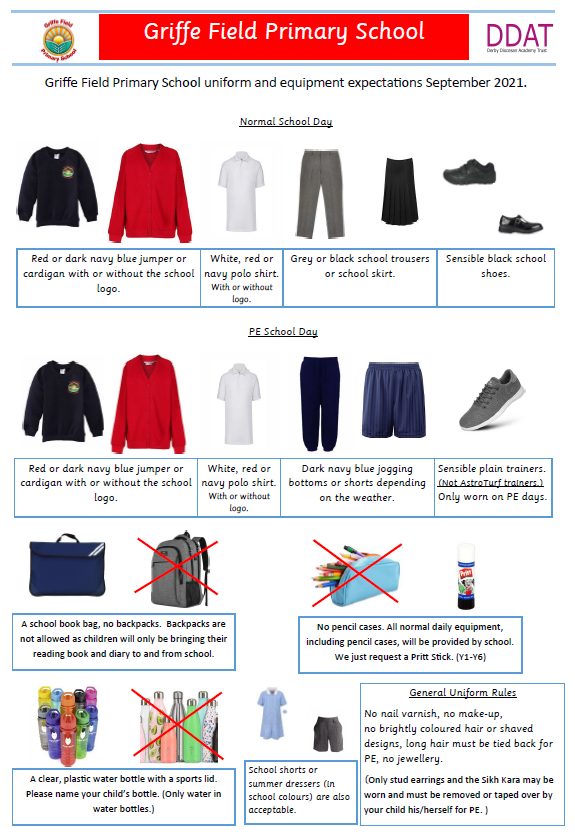 School uniform suppliers are :
Uniform Direct, 54 Babington Lane, Tel 342569
Uniformality, 21-23 Nottingham Road, Borrowash, Tel 677498
Multiprint, 560 Burton Road, Tel 224433
Morleys, 446 Nottingham Road, Chaddesden, Tel 281311
Plain garments in the same colours are quite acceptable.
The uniform for girls and boys is as follows:
Sweatshirt
Jumper
Cardigan
Shirt or blouse in navy or red. A white shirt may be worn
Trousers or a skirt in a dark plain colour
Shoes should be plain black, without heels.
A striped or checked dress in the school colours
Smart (not sports-style) shorts may be preferred for summer
P.E.
Outside – A plain T-shirt and shorts/jogging bottoms
Indoors – T-shirt and shorts, with plimsolls (sometimes bare feet)

Hairstyles
Extreme hairstyles are not allowed, including bright or unnatural colours, shaved heads, or patterns/lines shaved into hair.
Jewellery and Valuables
All items must be clearly marked. Jewellery, watches and costly toys are easily broken or mislaid and should never be brought to school – we can take no responsibility for them.
Jewellery is not allowed for safety reasons; only stud earrings and the Sikh Kara may be worn and must be removed or taped over by your child his/herself for PE.
Parents will be asked to read and return a Safety Information Form which will be sent home early in the year.